Black Duck Outfitters Testimonials
Maryland Hunting Guides for Sea Ducks, Diving Ducks, Puddle Ducks, Canada Geese, & Sika Deer. Spring Snow Geese in Maryland & Delaware, Spring Turkey in Maryland & Pennsylvania.
Black Duck Outfitters Testimonials
We have hunted waterfowl with half a dozen outfitters in Maryland as well as Delaware and Virginia and can say that by far our experience with Dan Houck and Black Duck Outfitters has been second to none. Hunting open water is hard work and takes the right equipment and knowledge. The hunting rigs are quality boats with plenty of decoys that are set up for one thing only and that is hunting. Some of the other outfitters we have hunted with take you to the exact same spot every time and you sit there watching the birds skirt the rig because they have caught on to you and they never move the rig. A successful hunt means more than merely dropping decoys in the same spot every day and waiting and Dan know this very well. Dan has been honest with us on what to expect from the current hunting conditions as well as being flexible as to the exact hunting location in order to target the species we preferred to hunt. It is also very evident that if he is not hunting, he is scouting and knows where the birds are if they are in the area. Even in less than ideal years, Dan will put you on birds for a great hunt and memories to hold you over untill the next trip. We have had a first class experience with him every time we have hunted and will continue to look forward to our trips with Black Duck Outfitters.

Thanks again for everything.
Dennis & Tim V
---
Dan,

I would like to thank you again for the memorable sea duck hunts. This was my first sea duck hunt I was ever on, I was impressed with your ability to match the conditions and put me on the birds. Each of my hunts has resulted in a limit of birds under a variety of conditions. We have yet to visit the same area twice and have employed a number of different hunting techniques including shooting out of the layout boat, and shooting out of the Bankes Goliath over decoys.

You are prepared for it all. As you know it was my first chance to hunt from a layout boat and it was thoroughly enjoyable! Watching the birds coming in over the decoys without recognizing what awaited them was classic. There was not a time that birds were not in the air. Having hunted inland for diving and puddle ducks, I have never experienced flocks of thousands that we've found working the oyster beds. They really did darken the skies! The sight of these flocks made the trip worthwhile; the opportunity to hunt truly made it an experience of a lifetime. I appreciate the effort that you put in to make the hunts successful; it obviously takes a lot of work to be able to consistently provide such high quality hunts. You seem to enjoy it as much as I have. It is a pleasure to hunt with someone who treasures the experience as much as I do. As a result of my trips with Black Duck Outfitters, I have taken scoters and long-tails (old squaws). I have several mounted and displayed to allow me to frequently relive my time on the water with you. I look forward to returning and our next hunt.


Tim H
Two friends and I had the pleasure of hunting sea ducks with Black Duck outfitters on the Chesapeake Bay in January of 2012. It was the first time I had hunted with an outfitter, and the first time any of us had hunted sea ducks. I was skeptical about hiring a guide, but it was clearly worth it. We all had a great time, and I was impressed with the knowledge and ethics of the guides. They answered our questions readily, provided great advice on how to hit fast flying ducks from a boat, and went out of their way to try and recover those ducks we winged. It was clear you put in the time scouting the area; that trip marks the only time I've ever shot my limit while duck hunting. I'm looking forward to hunting with you next season!

Chris M
Life is about opportunity. That was exactly what Black Duck Outfitters provided my son during Maryland's Youth Waterfowl Day in 2012. Guide, Jason White put my son in position to tag his first duck on his first duck hunt. Black Duck Outfitters provided the equipment, knowledge, and experience that resulted in a great day of action. Not only did Spencer learn a tremendous amount about hunting, but the level of accountability and responsibility that beamed from Jason was priceless for my son. If you are going to do something; invest in the resources to do it right. Spencer and I look forward to our next hunt with Black Duck Outfitters.
Dean & Spencer G
In late November of 2012 myself and some of my best friends had the oppurtunity to book a hunt with Black Duck Outfitters for a sea duck hunt on the Chesapeake Bay of Maryland. I had previously hunted sea ducks a few times before with several other outfitters and everytime it was the same thing taking pot shots at long range ducks from a lawn chair off the back of white crab boat. So to say I was skeptical about sea duck hunting again was an understatement but thats what the group wanted to do. Well from the time we met our guide Captain Dan I knew we were in for something different. Dan and his mate did all the work and we enjoyed ourselves. As far as the shooting it truly was whistling wings in our face. We had an incredible time shooting at ducks that were indeed fully comitted to the decoy spread. Unlike most other guides I have hunted with Dan and Zach pulled the decoys and we reset to finish out shooting our bag limit.
Cant wait for hunt with Black Duck Outfitters this season.
Ken W
I had the opportunity to hunt sea ducks with Black Duck Outfitters in early January 2011. Captain Jayson Wilt did an outstanding job in providing a top notch experience for our group. This was our first sea duck hunt and we are already booked again for next year. One of my largest concerns when booking a hunt with an outfitter is "fit" between your guide and hunting party. It took about 30 seconds to put that concern to bed. Jayson is now considered a friend and not just our guide.  Fast shooting, great guides & equipment made for a great hunt with Black Duck Outfitters. If you're looking for some of the wildest "Live Action" duck action, you won't go wrong with Black Duck Outfitters.

Jim J
I grew up duck hunting on the Mississippi Flyway; however, I had never hunted sea ducks and wanted to give it a try. I booked a guided hunt for my two sons and myself with Black Duck Outfitters. I could not have made a better choice for my outfitter and specifically the guide. From the very beginning Dan, our guide, took charge of the hunt. He ensured my two sons and I knew what was going on. His focus was on our saftey and the quality of the hunt, while we just focused on hunting and enjoying the incredible experience. The highlight of the hunt for my boys was watching Dan's dog "Riff" retrieve the downed birds.
This was truly a wonderful experience and I would strongly recommend Black Duck Outfitters to anyone and everyone looking to experience the thrill of sitting in a layout boat as bluebills begin to come in and you slip the safety off. My sons and I hope to repeat this experience next season again with Black Duck Outfitters.

Jay, Gray, and Andrew E.
Laurel, Maryland
Dan,

Samantha and I want to thank you for a glorious morning. I know our shooting let you guys down, but you and Ryan did heck of a job. We don't get many ducks in our area so to just see that many was a thrill for both of us. Then to watch you guys work them and turn them from far off to give us a look was fantastic.

To me, the best part of the hunting and fishing experience is the camaraderie and the sharing of stories and experiences. With the illness I had, and close call of needing a transplant, I didn't think I'd every be able to share a day like that again with Sam. Today made me realize even more how special days like today are. You and Ryan made it easy for me, and you took good care of us.

Thank you again for a great trip, a great day, and a great introduction to Black Duck Outfitters.

I look forward to our next opportunity to cross paths again.

Very Sincerely Yours,
Walt from Pennsylvania
Feel free to give us a call at

410-336-7078
to arrange you next waterfowl hunting adventure with Black Duck Outfitters.

Black Duck Outfitters is now booking Maryland sea duck, diving duck, puddle duck, Canada goose and snow goose hunts for the upcoming waterfowl hunting season. We also offer spring turkey hunts as well as Sika deer hunting.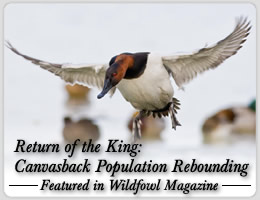 Click Here to read the latest article in Wildfowl Magazine.

Click here to book your hunt early to reserve your dates and make some hunting memories with Black Duck Outfitters.
Click here to view our current hunting rates.