Hunt Diving Ducks with Black Duck Outfitters
Maryland Hunting Guides for Sea Ducks, Diving Ducks, Puddle Ducks, Canada Geese, & Sika Deer. Spring Snow Geese in Maryland & Delaware, Spring Turkey in Maryland & Pennsylvania.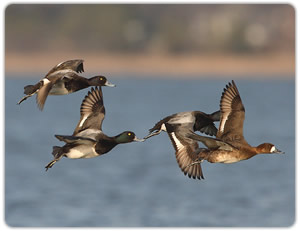 Maryland Diver Duck Hunts

We offer traditional Maryland diver duck hunting for canvasbacks, bluebills, redheads, goldeneyes, and buffleheads. Black Duck Outfitters hunting guides will take you out in one of our custom duck boats or layout boats for a morning of fast action diver duck shooting. The season for divers is November – January.

We will be hunting the tidal rivers on both the eastern and western shores of the Chesapeake Bay. Some of the most famous decoy carvers in the world have hunted these waters for years. The guides will be using large decoy rigs just like it has been for done generations before. Black Duck Outfitters equipment is "state of the art" but the traditions that have been handed down to us remain the same.

Black Duck Outfitters duck hunting guides are also USCG licensed Captains. They are trained to not only to "be on the ducks" but also to make sure your hunt is safe. They know the waters you are hunting. They know where the ducks will be and they know when it is NOT safe or when to get out of the "big water".

Maryland Diver Duck Hunting

Hunt on tidal rivers or the Chesapeake Bay
Divers, and Canada Geese
6 Duck limits
Lots of Action
Custom Boats
Diver Duck Hunting from our Custom Duck Boats
Pricing:

$300.00 per person
3 person minimum

What's included:
Boats
Decoys
Blinds
Professional Guide
Trained Retriever
You'll Need:
Maryland Hunting License w/Stamps, 3 day waterfowl license available.
Shells, shot sizes 1 2 3 & 4s or equivalent for ducks.
Gun, We do not loan guns. NO EXCEPTIONS!
Appropriate clothing for the weather full camouflage or dull earth tone colored preferably waterproof, a change of clothes is a good idea.
Waders, wet hunters are cold and miserable!

Our Guarantee:
Professional Guides, Safe, Knowledgeable, & Entertaining.

We Use the Best Equipment.
We Scout, EVERY DAY!
Weather:

We can't guarantee weather or when the birds will fly, some things you just can't control. For water hunts, we reserve the right to reschedule or may offer you a field hunt option if the water is at a dangerous level due to heavy rain or winds. Your safety and the safety of our guides is our primary concern.
Deposits:

50% deposit due at time of booking. Balance due when you arrive for your hunt. Due to limited availability and the advanced planning needed to ensure a quality trip, we are unable to refund any payments. We will be happy to reschedule and answer any questions regarding this policy.

Cancellation Policy:

Black Duck Outfitters reserves the right to cancel and refund hunts up to 20 days in advance for any reason.

For More info and questions:

Call 410-336-7078 to book your hunt!
E-mail us at: info@blackduckoutfitters.com

Black Duck Outfitters
Toll Free: 1-410-336-7078
Cell: 1-717-877-7878

Feel free to give us a call at

410-336-7078
to arrange you next waterfowl hunting adventure with Black Duck Outfitters.

Black Duck Outfitters is now booking Maryland sea duck, diving duck, puddle duck, Canada goose and snow goose hunts for the upcoming waterfowl hunting season. We also offer spring turkey hunts as well as Sika deer hunting.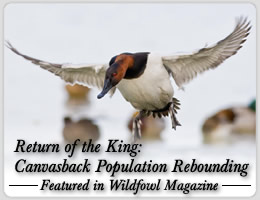 Click Here to read the latest article in Wildfowl Magazine.

Click here to book your hunt early to reserve your dates and make some hunting memories with Black Duck Outfitters.
Click here to view our current hunting rates.