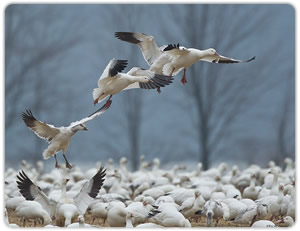 Hunt Maryland, Delaware, and Pennsylvania East Coast Greater Spring Snow Geese
Join Black Duck Outfitters spring snow goose guides following the migration BACK North!
Black Duck Outfitters spring snow goose guides hunt over a HUGE decoy rig of 150 dozen Silo Sock decoys. Electronic callers and custom spinners will bring the birds in "FEET DOWN". Spring snow geese decoy in large groups so we do try to have a full party to maximize the number of geese we can shoot. An unlimited bag and unplugged guns maximize your chances on a banner hunt during the Spring Conservation Order Season.
WE SCOUT EVERY DAY!!!!
Game:
Greater spring snows are a mixture of white and blue geese. The adult birds usually start the migration north first with the young birds soon to follow. Our goal each year is to catch the adults first and then move north when the last of the juvenile birds are coming into the decoys. This way we stay with the most productive migration. On these hunts we do mix parties and accept large groups of hunters.
Weather:
The weather during spring snow goose season can vary greatly from morning and evening and from day to day. Temperatures can go from 20 degrees in the early morning hours to 70 degrees or higher in the afternoon. It may even snow in March or April. So check the weather and dress accordingly.
Location:
Black Duck Outfitters spring snow goose guides stay in the heart of the migration. We will be scouting and following the birds. We hunt in Kent and Sussex counties in Delaware, and on leased farms located in Cecil, Kent, Queen Annes, Caroline, Talbot and Dorchester Counties in Maryland.
Included:
Fully licensed dedicated snow goose guides (we think some of our guides would rather snow goose hunt than eat, sleep or see their families), decoys, blinds, electronic callers, trained retrievers (if needed).
Not Included:
Transportation, rental car, guns, ammo, bird processing, beverages, licenses, food, lodging and gratuities.
Spring Snow Goose Hunts

Pricing:
$250.00 per day per hunter per day.